In my effective leadership program, I outline the twelve traits of effective leaders, which are: effective communication, creativity, (self) awareness, confidence, empathy, accountability, adaptability, decisiveness, commitment, integrity, optimism, and vulnerability.
(If you'd like to read more about the twelve traits of effective leaders, here's a link to an overview of all of the traits).
One question that I am ALWAYS asked – whether the program is in Stellenbosch, Strand, Somerset West, Durban or Cape Town – is why I don't include bravery as a necessary trait for effective leadership.
My response to the question is this: "To act as an effective leader, one has to be creative and to be creative is to be brave!"
The reason is that bravery falls under the banner of creativity.
"To act as an effective leader is to be creative, and to be creative,

one needs to be brave and act as a leader." ~ Mary Lou Cook
Creativity as a trait of effective leaders
Rather than including bravery as a module in the effective leadership program, I spend quite a bit of time workshopping creativity as a leadership trait.
Recently, while facilitating a program in the Helderberg area, someone responded that they can't be an effective leader as they aren't creative.
My immediate question for this leader was: "If I asked you to describe a creative person, what would they look like, or better yet, what would be their traits? 
Creativity isn't a title applicable only to an exhibiting artist an accomplished author, or someone who can conjure some form of "magic." Creativity is a part of all of us, including effective leaders.
As Seth Godin said in his book The Practice: "Creativity is not a feeling it is an action."
As I've always mentioned, leadership isn't a position. It's a set of skills, traits and actions, and by developing them, we become more effective as leaders. The same applies to creativity as a leadership trait: it is a set of actions that promote growth, exploration, inspiration, connection, and application – creativity.
How do creativity and leadership fit together?
I believe that creativity in a leader IS an action that includes:
Being curious
Curiosity leads us to new experiences and those experiences can give us the knowledge and the understanding to create something different or new. Whether an artist, entrepreneur or team leader, it's being curious that opens us up to new ideas that lead to creative innovations. As leaders, we need to be curious about our team, the market, ideas, and solutions.
Trying new things 
Being curious is one thing but we still need to be brave enough to try something new – to put that curiosity into action. If we never try new things, nothing changes.
Einstein is famously attributed with saying: "The definition of insanity is doing the same thing over and over again and expecting different results." Innovation comes from trying new things.
Making connections and solving problems
Steve Jobs saw the need for something more intimate than the laptop and something more capable than the smartphone. That connection and problem-solving led to the development of the iPad.
Creativity is not always in massive leaps and bounds but just a series of small adjustments, the accumulation of which leads to a change. As a leader, the need to find creative solutions to challenges and potential opportunities is always close by.
Collaboration
We all view the world through a unique lens. That lens is as unique as it is can also be limiting. The saying: "two heads are better than one" is very relevant when it comes to creativity. The more unique lenses we combine, the wider the angle of the view becomes, creating a more varied vision, idea, or solution.
Pushing boundaries
During my leadership skills training program – Thriving in Life, I always get the attention of everyone when I say: "I don't believe we can think out of the box."
I follow that attendee-awakening statement with this example. "If I give you absolutely nothing and tell you to create something, you will struggle to complete the task because there are no parameters. (Have you ever struggled to find a parking spot in an empty parking lot?)
But if I say to you: "Use a pen, a pencil, a piece of paper and a paper clip, create something for me in 15 minutes" I'll get a result.
 The reason is that – for creativity to happen – we need parameters. We need the outline of the box.
Once we have the parameters and I say, "push the boundaries," we can expand on the initial idea, making changes and pushing the walls of the box outwards so that the initial creation changes to something else from what we started with.
I believe in making the boundaries of the box bigger until possibly the creation is so different that the boundaries of the box have disappeared completely.
Creative leaders create an environment with boundaries that can be pushed. A wonderful example of this is Netflix's "No Rules" rule.
Creating something out of nothing 
This is where the imagination comes into play. Creativity loves a relaxed mind. Have you ever just been doodling or having a stroll and an idea or a solution to a problem comes to mind? That is creativity in action. It is allowing the space for the mind and the imagination to flourish. We don't always have to think about being creative. We can just be, and the creativity flows.
Stumbling blocks that hinder a leader's ability to be creative
The above points are what I believe are the actions that lead to creativity. However, two stumbling blocks hinder us from exploring being creative.
1.     
Being prepared to be wrong
For us to explore creativity, there is one key element that we need to deal with. We need to be prepared to make mistakes or to be wrong.
This is easier said than done because not only could it be costly in time, effort, and resources, but also because it's not a concept that has been promoted throughout our lives. Nobody likes to be wrong, yet there is no creativity or innovation without failure or making mistakes.
There is an alternative way of looking at it as said by Thomas Edison: "I have not failed. I just found 10, 000 ways that won't work."
2.     
Creativity thrives on what the brain fears most – taking risks and not knowing. 
Because of this, our default mode is to create routines.
The sleepless nights created by not knowing and uncertainty include not knowing if it will work out, not knowing if I'm good enough to create it (do you see imposter syndrome creeping in here), not knowing if it will be a waste of time, not knowing what people will think of me if I get it wrong…or right, the risk of losing anything…everything.
However, to overcome that challenge we push the boundaries of the box – our comfort zones – outwards in bite-sized chunks, enabling us to feel safe, while taking notice of our progress and looking back to see how far we've ventured from our starting point.
It's the small wins that build confidence and are usually the least expensive, mentally, emotionally, physically and spiritually.
"The enemy of creativity is stress, but it turns out the that the kryptonite of stress is creativity." ~ Coralie Sleep
To be a leader is to be creative
To be a leader is to be creative, as problems and challenges need continuous solutions. Connections between people, things and ideas are continuously sought, and creating visions for personal growth, our start-ups, or the team, is an absolute must. Creativity needs leadership, and to be an effective leader we need to create – both of which require bravery.
However, the "magic" of creativity is witnessed by the audience and not necessarily by the creator.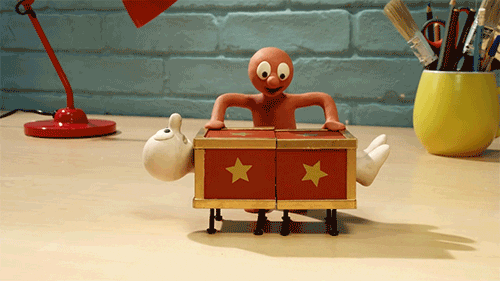 The reason why some leaders feel that they aren't creative is that they compare themselves to an artist, or the likes whose magic is hanging on a gallery wall, or to someone who has presented an amazing marketing campaign, presented a phenomenal talk, or solved a massive budgeting crisis.
Comparing ourselves to others can create a lot of uncertainty within us and can create unfounded assumptions.
Creativity is not linked to a specific profession or title. Creativity is the actions that we take that are linked to what we do as leaders.
When we view the finished work without understanding what it took to get there, we are not seeing the whole picture.
Monet didn't just pick up a brush and paint his famous painting "The Artist's Garden."
Steve Jobs didn't just create Apple out of nowhere.
Inspiring speakers don't just take to the stage and churn out a motivational talk.
For anything to grow, develop and flourish, we need to be curious about what is going on around us. We need to try new things or take a new direction, and face challenges that arise and need to be overcome. We need to ask for help – collaborate, and we need to overcome fears.
How do leaders develop creativity?
Be Curious
Open that email or read that article that you think might be of no interest to you. 
Speak to someone new 
This also helps with overcoming fears, but remember: listening is as much a part of communication as speaking is.
(If you'd like to read an article on effective communication in a leadership context, follow this link).
Learn from others 
Creative leaders learn from leaders who have walked our path before. You can never put too much value on experience, and where better to look than to mentors who can be fantastic sounding boards and guides?
Have a problem that needs solving?  
Speak to someone else about it. "Collabs'" open us up to different viewpoints, thought processes and problem-solving methods which can lead to a whole new level of options.
Try something new
Start with something as simple as ordering something you never normally would from a menu.
Take up that hobby you've been thinking about for years. 
Don't be concerned about the outcome – just do it because you're interested in it. Remember the 10,000 hours to develop expertise, and Thomas Edison's 10,000 ways that don't work? You've got to start somewhere.
Play
There is so much new research on the positive effects on both our well-being and creative inspiration when we do fun stuff or do something just for fun.
Go out, play and have some fun.
Take action 
We can imagine, think, talk, discuss etc, yet nothing will be done unless we take the first step.
The first step – possibly out of our comfort zones – can be the most difficult because it can be seen as a step into the unknown, and the unknown is not a place our minds like to go, but once the journey has begun taking the follow-on steps does become easier, understanding that it is just a step-by-step process.
On a personal note…
To end off I'd like to share with you a personal story about a journey that I experienced that embodies everything in this article about creativity.
Besides being a Credentialed NLP and Transformational Coach and a SAQA accredited Leadership Trainer, I'm also a professional photographer.
I love doing both passionately and have managed to accommodate both in my life. Even though they're seemingly different on the surface, they are deeply connected. One is no more creative than the other as I believe it's not what we do professionally that labels us creative but rather what we do with what we do.
My story is related to my photography.
I have 32 photographs permanently exhibited in the Swiss Museum of Transport in Lucerne, the most visited museum in Switzerland. These photographs are the only artworks from Africa in the entire museum.
When I tell people this or they find out about it a common response is "Wow you must be so creative!" or "How did you get to be so creative?" or "I wish I was so creative."
Even though I am a skilled photographer – through training, exploring various techniques, making changes etc I believe the journey that it took to get my photographs exhibited is as creative as the end product.
I'm not sure how many of you know but the company that runs the cable car system up Table Mountain – Table Mountain Aerial Cableway Company or TMACC, shuts down every year for its annual maintenance.
During this time Swiss Engineers come out and, alongside the local technicians, among other maintenance, change the cables, they refurbish the cable cars.
In 2005 I received a phone call from the marketing Manager of TMACC who said that they needed to create a project manual with photographs to showcase the different stages of the cable change. I thought that I was only going to be shooting a project manual. 
On the first day, when I arrived, I saw containers of equipment, teams of men in overalls, and massive machinery loading cables – really hardcore industrial stuff – all against the beautiful backdrop of Table Mountain. I remember very clearly that day, upon witnessing all before me, asking myself the question of what I was actually photographing.
Realising that in front of me was much more than just a project manual, I spoke with the Marketing Manager, and I said: "You'll get the photographs for your project manual but I'm also going to do a reportage in black and white." 
The photographs that I took that year were not only used in the project manual, but I also focused on the local staff working behind the scenes to ensure the safety of every passenger that journeys to the top of the mountain. 
These pictures were used in the newsletters and the annual report and were the starting point of a 17-year journey that resulted in my photographs being exhibited in the museum.
From 2005, I photographed the maintenance shutdown every year and, as amazing as it has been, the one challenge or problem to solve was how to continuously give them different pictures.
One year I used different lenses.
One year I focused solely on the machinery.
One year I brought more of the landscape into it, and so on. Every year had a different slant.
Around the 4th year, I created a story around it to create an inspirational theme for me, and because we love stories. In my mind, there were 3 key protagonists in this story.
Man – the engineers and technicians.

Machine – everything about the cable cars, the cables, and the machinery was on a grand scale.

The Mountain – Table Mountain was this magnificent backdrop.
The theme became "Man working with machine on a mountain – an engineering feat in a unique environment."
Up until 2019 – just before Covid – that was the theme in the back of my mind every time I went to photograph the annual cableway shutdown.
Lockdown
In late 2019 Table Mountain Aerial Cableway Company celebrated its 90th anniversary and, as part of their celebration, they paid for an exhibition of my photographs at Youngbloods gallery In Cape Town. 
Instead of having just a single opening night, collaboration around the month-long exhibition resulted in a 3-day opening to which their suppliers, the media and personal guests were invited.
The exhibition opening was in March 2020 and it was amazing. The champagne flowed, all my friends were there, and the guests and the media wanted a piece of me.
I was on top of the world.
As a photographer, I thought I'd summited my peak.
But the experience from that evening was to be short-lived, because 5 days after the opening of the month-long exhibition South Africa went into its first hard lockdown, and for 3 ½ weeks my photographs hung, alone and unseen.
To add insult to injury, all sales from the opening night were cancelled due to the uncertainty of the time.
Remember that the technicians who came out to South Africa to maintain the cableway were from Switzerland?  Well, with time on my hands during Lockdown, I realised that there was a connection and that there might be interest in Switzerland in my photos as they are the only photographs in the world of the only cable car system in Africa, built and maintained by the Swiss. 
During the first part of Lockdown, I tracked down anyone in Switzerland who I thought might be interested in these photos. I contacted the company that built the cable car system, the company that manufactures and sends the cables, I contacted anyone who I thought would be connected to cable cars which finally led me to The Swiss Museum of Transport. 
For many months I sent emails and received rejections, detours, and no responses, but I persevered.
In June of 2021, I opened my inbox to an email from the Director of the Swiss Museum of Transport saying that they were interested in using my photos to form part of their upcoming tourism and ropeway exhibition.
During the following months, 32 pictures were chosen, some to be printed and some to be digitally exhibited, the logistics arranged, and the fee agreed upon, with the opening date of 27th April 2022 confirmed. They also wanted me to be there in person to speak at the opening. 
The problem was that I didn't have the money to get there.
Even though they had paid me for the pictures – after 2 years of living through the pandemic, working as a Coach/Trainer and a photographer, the money that they paid me had to go to more important things to plug some of the holes created during the 2 years of uncertainty.
I realised that I had to take a risk, be brave ad collaborate further.
I had to publicly ask for help.
I'm not sure if any of you know about crowdfunding, but for those of you that don't, it's a way of raising finance for specific projects, but there are two non-negotiable stipulations. 
The exact amount of money requested, or more must be reached, by the date that you stipulate. If you don't reach or exceed the amount requested by the date stipulated, the funds won't be paid out.

Rewards have to be offered in return for donations.
In my case, I needed to raise R27 000 by the 15th of April 2022. I had a total of 3 weeks to raise all the money. Even if I raised R25 000 in that time, the money wouldn't be paid out – it had to be the full amount or more. 
For crowdfunding to work, rewards are offered in return for contributions. I had to become creative in my rewards. For a donation of R200, the person would receive a digital image. For R380,00, they'd receive a signed coffee-table book. For R1500,00 I'd do their social media brand image pics, and for R6000,00 they'd have me for a ½ day photo shoot. 
For crowdfunding to be successful, you must continuously drive people to the crowdfunding website to get them to contribute.
You start with your inner circle of connections and expand from there, but you also go back to your nearest and dearest, to ask them to ask their circle of contacts to visit the crowdfund and contribute. It requires a continuous change in media messages and platforms asking for people to help.
Even though there I was offering rewards for contributions, I felt uneasy because – as we'd just come through this pandemic – people were struggling, and here I was asking for contributions so that I could travel to Switzerland to see MY photos hanging in a museum. Not really a lifesaving project, is it?
But…
On the 27th of April 2022 year, I got to see my photos hanging in The Swiss Museum of Transport – the most visited museum in Switzerland with over 1 million visitors a year – only to be told that my photos will be there permanently and that they are the only items from Africa in the museum.
At the launch, many people came up to me and said how much they loved the photographs, but no one knew what went on behind the scenes for me to create my moment of magic.
To be creative is to take brave and bold actions that the public might not see. It is the actions that contribute to growth and development, which is the same as the role of an effective and creative leader.
If you want to see the full range of 32 pictures that are on permanent display, follow this link.
If you enjoyed this article, here are links to others in this series:
What is an effective leader, and can I become one with training?